v039 - It's Wednesday in Canada
---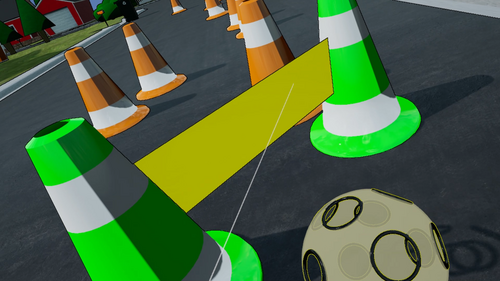 Wow, it's been two months already? We're slackers, huh? Anyway. since the last update, LOTS has happened in Super Hockey World!
it's Thanksgiving here in the US, and we're thankful for YOU. The amazing generosity of our fans, friends, and family, helped us to complete a small Kickstarter! We narrowly hit our goal of $2500, which gives us enough wiggle room to keep the project rolling for a little while longer. Sure, it won't let us do anything flashy like move into a nice office, hire some help, or buy cool toys. But it will let us keep working on SHB. That's invaluable, if you ask me.
We were also accepted as developers for Valve's Knuckles controllers! You may have heard of them and how amazing they'll be for the future of VR. If you don't know about them yet, let me Google that for you. They won't be available for a while (and no, we don't have any info to share about that). We'll be integrating Knuckles support into Super Hockey Ball, so you'll be able to enjoy all their benefits once they're available.
Our Oculus Start developer's kit arrived! It's chock-full of goodies. Thanks, Oculus! We'll be using the kit to start building multiplayer support. Want to help? Let me know in our Discord server.
So, we've had a lot going on with the non-development side of things. But we figured we should crank out an update anyway, just so you know we're still here. We've got a new Game Mode for you! There are some graphics improvements, tremendous performance boosts, minor additional features, and lots of little improvements to the overall experience. Check it out and have fun!
We'll be back with more, right after these messages.
Changelog:
Gameplay Adjustments
+ Added Random Gates game type
+ Adjusted starting positions in Hit the Targets
- Positions are dependent on player handedness
+ Game now pauses when HMD is removed (Oculus)
+ Increased Snap Rotation speed
+ Improved Ball Randomness
Performance
+ Reduced texture size by 98%
+ Numerous minor performance tweaks
Graphics
+ Main Menu loads Day/Night based on actual time of day
+ Added Camera Fade to Snap Turning
+ Improved Random Stars
+ Improved Asphalt texture tiling
+ Added Background Scenery (Mountains)
Audio
+
Bug Fixes
+ Ball now randomizes properly on level load/reload
+ Fixed Point calculations in Gates modes
+ Improved Collisions
+ Fixed Spectator Camera
+ Significantly improved Gate detection
+ Gates now support bi-directional triggering
Other
+ Integrated Round Robin Occlusions
+ Added Reload Level to Debug Options
+ Added Hi-Res Screenshot Actor
+ Added 10x larger neighborhood (experimental)
+ Re-integrated UWorks plugin (Steam leaderboards/matchmaking)
Files
superhockeyball-v048-win64.zip
1 GB